Kaleao KMAX 12-Blade/192 Server System
The Sunlight Enterprise Software platform has been optimised to run efficiently on the Kaleao KMAX server. The KMAX blade system is a unique dense microserver platform with exceptional performance due to its dense processor core fabric and FPGA hardware acceleration capabilities. Each 3U system holds up to 12 blades, with internal switching fabric exposed on the exterior of the blade with 2 QSFP+ ports. There are 4 compute nodes embedded on each blade and each node contains 4 Exynos processors with 8 cores, each with a big.LITTLE configuration, 32GB of RAM and 2 IO acceleration FPGAs. There is optionally the choice of up to 8TB of NVMe storage attached to each compute node. This makes a total of 128 cores per blade, 128GB of RAM and up to 32TB of flash storage per blade, or a total 4U density of 1536 cores, 1536 GB of RAM and 384TB of flash storage.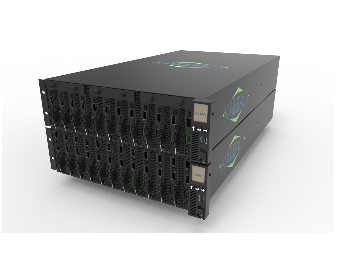 Note
Installation of the KMAX system must be ordered from the factory, otherwise- post-purchase technical support from the Sunlight and Kaleao teams is required. Please, contact your Kaleao distributor for further information.