Windows VM Configuration
The following steps describe the procedure required in order to properly configure and access Windows instances:
STEP 1 : Check the Network Configuration (DHCP TYPE)

Determine whether there is a DHCP server active on your network. The DHCP server is needed for configuring Windows instances manually. Please refer to Step 4 for further details.

STEP 2 : Press CTRL-ALT-DEL to connect to the VM through the console.

Click on the windows created instance , select console and press Ctrl+Alt+Del to connect to the VM as shown in the following image.

STEP 3: Connect using the following credentials:
For Windows 2012 the following is enabled:
    Username: administrator
    Password: pass123

you SHOULD IMMEDIATELY change this to a secure password
For Windows 2016 the password for user administrator must be reset as soon as you connect via the VNC console.
Please follow the procedure:
Right click on START button and click Computer Management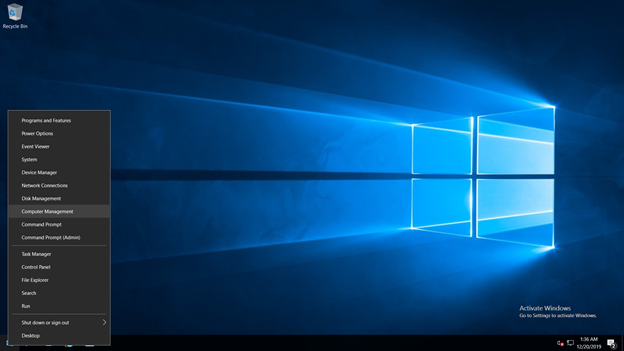 Navigate to Local Users and Groups , On Users choose the administrator account from right panel,
Press right click and choose set password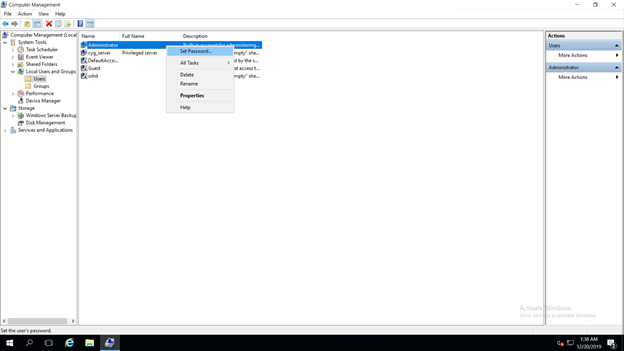 Press proceed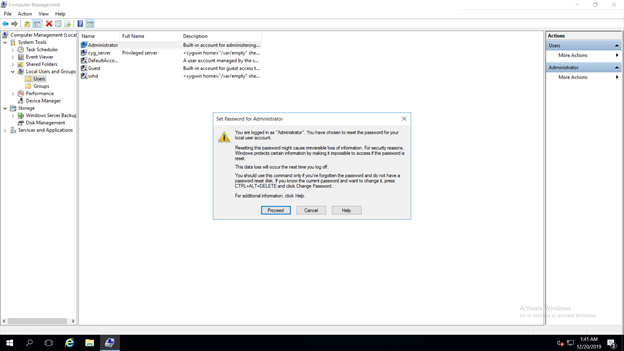 Set the new password to a secure password that you can remember and click ok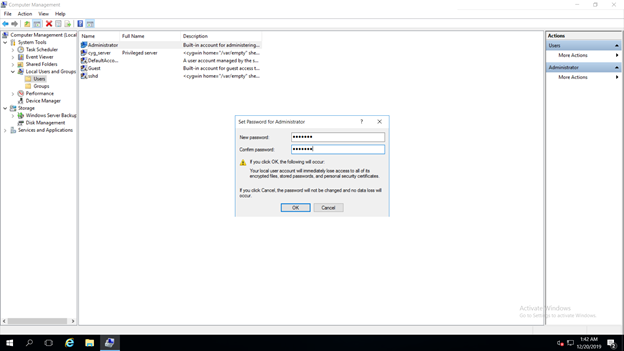 At this stage you have a secure password for the administrator user
STEP 4: Set IP for static network configuration:

In case the physical network interfaces - NIC0/NIC 1 have been configured as external and there is an active DHCP server connected to the Network, please ignore this step and proceed to step 5. If the physical interface is configured as static, some additional Windows Network configurations have to be performed manually, as described below:

Select the Networks tab , check and note the Gateway IP address as it is highlighted in the next image

For instance in this case the Gateway IP address is : 69.168.226.1

Select the Instances tab, check the windows instance that was created and note the displayed instance's IP address , as it is indicated on the following next image.

In this case the Instance IP is : 69.168.226.5

While connected to the Windows VM, press the start button and navigate to the Control Panel

Select Network and Internet Settings

Select Network and Sharing Center

Select Change adapter settings:

Right click on "Local Area Connection" and select "Properties"

Select "Internet Protocol Version 4"

Set the IP settings according to your network configuration based on the Gateway and Instance IP addresses, as noted in the previous steps. All of the other parameters have to be configured exactly the same as the ones presented in the following image:

-Click "OK" to save the settings.

STEP 5: Accept firewall rules

Select "start", navigate to the search bar and write the following: "Windows Firewall with Advanced Security".

Select the inbound rules on the top left corner of the page, as illustrated in the image below

-Choose Public Profile and select "Enable Rule" on the following rules:

a)Remote Desktop - shadow (TCP-IN)
b)Remote Desktop - User mode (TCP-IN)
c)Remote Desktop - User Mode (UDP-IN)


In order to apply the "Public profile" for all the mentioned rules, double click on each rule, navigate to Advanced settings and select only Public profile